Welcome to the heart of charlevoixMAISON CHEZ LAURENT
Located 10 minutes from Baie-Saint-Paul and 30 minutes from the entrance to the Grands-Jardins National Park, on the 138 at the intersection of the 381, Maison Chez Laurent offers chalets, a motel and a century-old house to offer you an unforgettable stay and to make you enjoy the enchanting landscapes of the beautiful Charlevoix region.
discover charlevoix's legendary hospitality!
PROMOTIONal package
snowmobile
FROM 50$/night
Snowmobile lovers, take advantage of our package specially designed for you! Comfortable accommodation close to the trails starting at $ 50 (plus applicable taxes). Our package includes breakfast.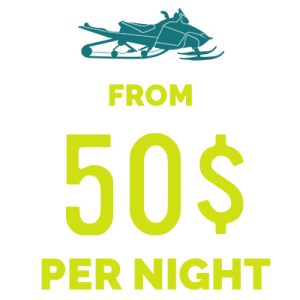 FOR EVERY KIND OF VACATIONFind you accomodations
A GENEROUS NATURE!FUN THROUGHOUT THE SEASONS
Whatever the season, Charlevoix will charm you with its spectacular and generous nature. The strategic location of our establishment will allow you to make the most of outdoor Charlevoix activities while resting.
On the menu: golf, hiking, fishing, whale watching, via ferrata, snowshoeing, skiing, dog sledding, swimming … Phew, the list goes on!